September 3, 2009
tools
Add
"

Search the Internet" Back to the Win7 Start Menu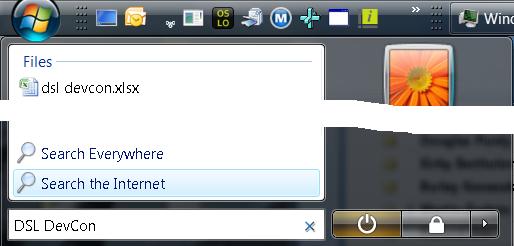 Windows 7 took away a feature I use all the time, as shown on the right: Search the Internet.
Here's what I did all day, every day in Windows Vista: Ctrl+Esc to bring up the Start menu, then I start typing. If I'm searching on my HD, I immediately get matches and I can choose one with just the arrows and the Enter key. If I'm typing in the name of a program in the Start menu, I get those matches and choose one. If I want "calc" or "notepad" I can just type those and those work.
However, 80% of the time, I want to search the internet, so enter my search term, optionally including attributes like "site:", I press, down-arrow once, highlight "Search the Internet" and press Enter. This brings up my default browser with my search results in my default search engine without me having to move the mouse or open the browser and wait for the home page or even decide where I want the search results to come from until after I've entered my search phrase.
And we took it out of Windows 7. : (
But, Shawn VanNess has shown me how to put it back! : )
Download this zip file, execute the .reg file, press Yes and OK a bunch, kill and restart the explorer.exe process and the next time you do the Ctrl+Esc+type+something dance, you'll see your old friend "Search the Internet" right back on the Start menu where Bill intended it to be. Thanks, Shawn!
Update: This post has been translated to Danish.