March 15, 2009
spout
Why I Hate My iPhone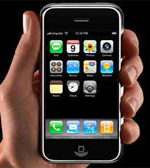 I've had an iphone for the last coupla weeks and there are some things that drive me crazy about it!
The battery life is crazy short. I can't make it more than 6 hours on a charge. Good lord!
Pandora, an app I dearly love, can't run in the background like the ipod app, so I can't do

SMS

, email, check my calendar, etc. while I'm listening. Are you kidding me?
There's no tactile feedback on the keyboard, although the auto-correct is amazing ("let go, let iphone!").
There's no copy-paste. I've never used a smart phone that did, but I soooo want this feature!
There's no free out-of-the-box app for using my iphone as a laptop modem, which is something I really loved about my T-Mobile Dash.
I used to be able to use my T-Mobile account to get free wifi at Starbucks. Can I do the same with my AT&T account? I have the unlimited data option.
There's no turn-by-turn directions on the map app and easy re-routing when I go off route. It's so close; let's go all the way!
And all of that pales in comparison to the single worst deficiency in the app-suite of the iphone for which I've found no good work-arounds; the calendar app is nearly worthless in a business environment:
There is no snooze, so I can't set an alert for 15 minutes and then 5 minutes before, then at the time, etc. In a meeting driven environment like Microsoft, the lack of snooze means that I'm actually missing meetings.
There is no way to invite other people to events. Further, if I create an event via Exchange so I can invite someone, I can't edit it on the iPhone.
I can't do a Reply All to an event to ask a question or let folks know I'm running a little late.
There is no detection of phone numbers or addresses in event locations or the body, which means I get no integration with the phone or map apps. This means that I'm memorizing phone numbers and addresses stored in events so I can enter them manually. I have a smart phone so I don't have to remember this stuff!
My appointments don't show on the home screen, so I have to constantly check the calendar app to see what my day is going to look like.
The calendar app is the single thing that makes me miss my Dash. Someone please tell me there's a workaround to these issues! I'll pay!
The reason I list the things I hate about my iphone is because the list of things I love about it would be impossible to enumerate. I had a T-Mobile Dash for years and it went with me everywhere. It was as big a boost in my electronic lifestyle as my first laptop. After having a smart phone for contacts, email, music and surfing the web, I couldn't go back. Plus, I loved the Dash so much that I'd try a new phone every 6 months or so and then bring it back because it just didn't compare.
On the other hand, the iPhone replaced my Dash in 24 hours. I've been twittering iPhone development related apps. I've purchased iphone charing cables for everywhere in my life where I sit for more than 5 minutes. I want to integrate my iphone as closely into my car as possible.
They will pry my iphone out of my cold dead hands.