January 31, 2004
spout
What Would You Save If Your House Was On Fire?
Saturday, January 31, 2004
On a recent thread on my favorite mailing list ever, Jon Kale answers the question "what would you save if your house was on fire," which triggered my own thoughts along this line.
Assuming I've already made sure that the humans and the pets were out of the house, I'd make sure to grab my Omega X-33 (purchased during the bubble, of course), but since I go almost nowhere without it, it's not likely to be burned up w/o its owner.

Also assuming I had a set of back-up CDs/DVDs for the last year in my safety deposit box (which I don't have right now… please excuse the pause while I purchase a DVD burner… OK, $155 got me a top-reviewed DVD+R/DVD+RW drive with 30 blank DVD+RW disks delivered), the thing I would most miss is my book collection. The computer books could be replaced on demand, but my collection of just-for-fun books has literally taken a lifetime to collect and cull down to just things that I really love (click on the picture to get a closer look).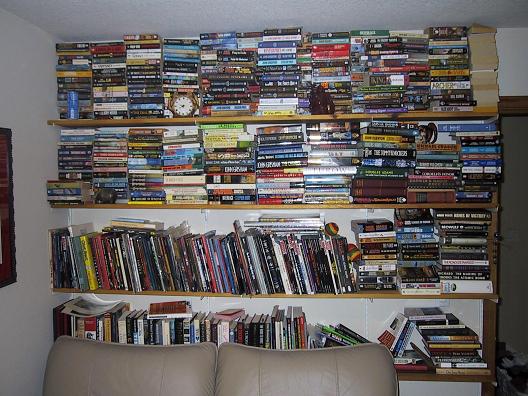 Often, when I want something comfortable to read, I'll scan the shelves 'til something pops out at me and re-read it. Also, when friends & family come to town, I often take them to Powell's City of Books and we play the "Top 5 Books of All Time" game, purchasing what they point out for me and writing their name in the book so that when I read it, I can talk about it with the recommender (man, I've gotten some wacky books that way…). Losing those books, especially the ones I haven't gotten to yet, would really hurt.
On the other hand, because you never know when you're going to need to jam, my goal is to fit my entire set of positions on a memory hypercube (or whatever). But how do I back up the books when the atoms themselves are so satisfying? I mean, how can I recapture the feel of my leather-bound The Complete Frank Miller Batman, the back-pocket-worn The Silicon Mage, my copy of The Hobbit and The Lord of The Rings signed by my mother when I received my Master's Degree because she read them to me when I was 10 or the ancient copy of The Complete Sherlock Holmes given to me by my father and to him by his father?
But even if I wanted a lossy digital backup of my books, how do I do it? I mean, I can scan all of my books and graphic novels, but only by destroying them. Why haven't books, which are produced in digital form, made the transition to electronic availability? Are we waiting for the Tablet PC to get to a point of ubiquity?
So, in summary:
How do I back up my favorite atoms?
What would you save if your house was on fire (after humans and pets)?