October 22, 2012
telerik
Windows 8 and Visual Studio 2012 and Data Visualization, Oh My!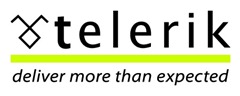 This month is a big one for Microsoft developers. Windows 8 will be generally available in stores on a variety of form factors starting on 10/26, with the BUILD conference following closely in the last week of October. This on top of the Visual Studio 2012 RTM earlier this summer and a Windows Phone 8 release coming soon, and there's a lot going on if you're a Windows developer.
If you've read my previous editor's notes this year, you already know that Telerik takes Windows 8 and Visual Studio 2012 very seriously. As of 10/17, we've officially released our set of XAML and HTML controls for building Windows Store apps on Windows 8, including data visualization controls like charts, gauges and bullet graphs. These controls aren't just ports from old platforms, but controls that have been re-imagined for the touch-centric mobile devices that Windows 8 will be shipping on. In addition, we've updated JustCode to support Windows Store project types, JustDecompile to decompile Windows Store and C# 5.0 apps and our JustTrace profiler to target Windows Store apps. If you'd like to see what our amazing customers have already done with all of this great Windows Store support, check out our Showcase Gallery.
Further, as the modern UI style becomes more popular, we're continuing to push touch and metro UI themes into almost all of our suites, including ASP.NET AJAX, WPF and Silverlight. Also, these platforms including WinForms get a huge new control this Q: the PivotGrid, providing you with cutting edge data visualization for your custom apps.
In this Q, we've focused on Windows Store apps, Visual Studio 2012 and data visualization for desktop, web and mobile app development across the board, but that's not all! We've added Coded UI support to WinForms and WPF controls, full SharePoint compliance to our ASP.NET AJAX controls and complete storage of all of your Visual Studio settings in the cloud to JustCode! Check out our webinars the week of 10/22 so you can see just exactly what's new in your favorite Telerik products.
Chris Sells
VP, Developer Tools
@csells
P.S. And while the Developer Tools division has been hard at work, so has the rest of Telerik. For example, we've recently welcomed Eric Lawrence into our family with his excellent Fiddler tool, and the folks in our agile project management division TeamPulse have introduced Kanban boards and integration with TFS 2012 in their latest version.