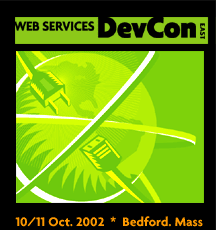 practical topics for web services zealots
Sessions on CD
The materials for both the DevCon West and the DevCon East are available on CD, including the slides, several whitepapers and a video interview between Don Box and Chris Sells.
See you next time!
This wraps up another successful DevCon. I'd like to thank the speakers and the attendees for making another great show. I hope to do another real soon. Thanks for coming!
Sam Ruby: "The sessions were of the same top notch quality as the previous devcon."
Sam Gentile: "Web Services DevCon really rocked!!"
Brian Graf: "The DevCon was a great conference. The speakers were top notch, interesting, and dynamic. It was truly a life-changing experience for me."
Ingo Rammer: "Content, content, content! Count on me for next year's DevCon."
Clemens Vasters: "This conference was easily the best one I attended in a long time"
Alexis Smirnov: "This conference blew me away. It was at once exciting and humbling to spend two full days in the company of real experts. The energy in the room was truly amazing – there was zero marketing bs, no Java-vs-CLR religion, the audience was engaged in every talk, complementing it with questions and comments."
The level of speakers at this conference is so much higher than any other I have ever attended, [that] Chris & Tim should invent a new word for the event
This was [an] interesting conference. Great job! Will come back!
What was most interesting was hearing where [the] best thinkers at major vendors and standards organizations are headed
Great conference. Being involved in the grind of day to day business, it's good to be able to just think about the big picture for two days. Thanks
Even better than the first one! Perhaps my most peak conference experience!
This conference absolutely rocked
Great content. Obviously, this is the conference for this stuff. Good number of WS big wheels speaking
I liked the real-world sessions that discussed practical implementations of web services
When is the next one? Sign me up!
Good job! Do it again! The best mix of speakers and topics I have seen in a long time
Great conference. First time I sat through all (OK, almost all : ) talks
Fantastic. Most useful conference in last two years!
This conference was great! It was reaffirming to hear industry experts validating the work I've been doing while providing insight + direction in some new areas. Keep 'em coming!
Although I am new to web service[s], I can safely say that I am leaving with a wealth of knowledge in a two day period that only years of exposure can provide. I look forward to attending the next one
About Keynote, Sam Ruby
Sam is the center of interop and he reminded us why with this talk
Sam Ruby is an authority in all things web service and this talk re-enforced that. He fundamentally changed the way I look at SOAP
Sam's talk was a great intro + foundation. It validated that [this] conference was the right choice for me
About Designing a RESTful SOAP API, Peter Drayton
Peter is an excellent speaker. With a controversial topic, Peter did a great job of presenting both sides of the argument fairly
Peter gave a great perspective on all-important architecture issues AND offered some great guidelines to follow
Highly interesting subject which was well presented
About When Web Services Go Bad, Steve Loughran
Steve is a great presenter and making us all aware that WS are more than just code is great stuff
My favorite speaker so far. Great real-world example
The speaker did [an] exceptional job
Lots of practical guidelines from someone who learned it the hard way!
About W3C XML Schema, Noah Mendelsohn
Definitive talk on schema. Brilliant!
I want to get a job where I will be paid to do W3C
Very interesting!! Excellent speaker
Noah [is] clearly one of the greatest minds in [the] XML community
Awesome!
I want to be Noah when I grow up [ed: me, too]
About Using Inheritance in a Web Services, Scott Seely
Scott did examples that I have never seen anyone else do
Wow! How did you manage to get Scott? Very practical and cool presentation
Scott's presentation was quite interesting with lots of real world application for me
About Web Services in the Doctor's Office, Dr. Aleksey Nudelman
Very useful and practical talk
Interesting perspective from this legacy application world
About .NET, XSLT, and Web Services, Christopher Dix
This talk rocked!
Not sure if I should be horrified or impressed with the work Chris did
What a freak! I know XSLT could do some great stuff, but this? I never thought this would be so doable
Great presentation of an alternate approach offered new insight into XSLT
About Types and Semantics In a Web Service Universe, Don Box
As usual, everything Don presents makes me think in new ways
Don. 'nuff said
Don has inspired me to come out of the emacs closet
He's great!
Very engaging
About The Right Way to Build Web Services, Yasser Shohoud
Great talk. Whose going to start a petition for a WSDL editor in VS.NET?
Yassar did an excellent job of showing how to do web services right
This talk got me thinking. It's a great way, and I agree the right way, to build web services
Eye opener. Redefined our thoughts
One of the most important talks at this conference
The next time I find myself in the deep end of the WSDL pool, I'll be sure to call Yasser
Just an awesome job!
Excellent!
Nice to see how to make "clean" SOAP
Right on!
About Web Services Diagnostics, David Seidel & Mark Ericson
The speakers were superb. They could have presented just their tool but they fairly showed all the tools they knew. And their tool rocks!
It was great to see [a] tool vendor not trying to push their own tools, but rather help people with choosing tools
An interesting project and a useful overview of diagnostic techniques
About Building Web Services Using System.XML, Tim Ewald
I definitely did NOT want Tim's talk to end
Geez, Tim is good! Funny, interesting, thought-provoking. He's a skilled presenter
Interesting view on how XML [to] object mapping loses the ability to use keen XML languages/tools
Fantastic!
Excellent! This is exactly the kind of information I was looking for
About Network Infrastructure Requirements for Web Services, Eugene Kuznetsov
Very timely talk -- this what makes a conference like this worthwhile!
Good coverage of a topic I haven't thought about
Eugene scared the living XML out of me
Absolutely critical talk
About Web Service Security Support in .NET, Keith Ballinger
My favorite talk of the session! I finally understand some of this!
Good intro to the WSDK
About The Web Services X-Files: Tales from the Labs, Clemens Vasters
Wicked cool
Best talk of the conference. Awesome technology
Amazing!
Wow! This stuff rocks! Unbelievable!
Great presentation. No. 1 amongst all
Amazing. Just amazing
Wow. Great session
About What Web Services Needs to Know About PKI, Rich Salz
Nice overview. Good way to end the conference
Really good talk
Rich is great!
Site
This site, and all its contents, are copyright © 2001-2002, Chris Sells and Tim Ewald. All rights reserved. Please contact csells@sellsbrothers.com with any comments or suggestions.