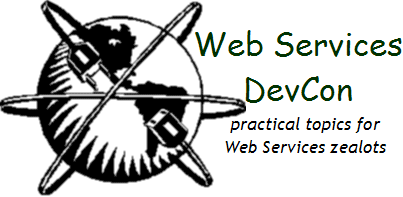 Sessions on Audio
Audio tapes of all the sessions as well as a video of the keynote and some special video interviews are available now! Tell your unhappy friends that had to miss the conference and check it out the interviews from your favorite speakers.
Seen at the DevCon
Craig Andera (attendee, speaker and official photographer) posted his pictures of the DevCon here.
See you next time!
This wraps up another successful DevCon. I'd like to thank the speakers and the attendees for making another great show. I hope to do another real soon. Thanks for coming!
Sam Ruby had some nice things to say, as did Simon Fell, Craig Andera, Keith Ballinger, Sam Gentile and Peter Drayton.
[The] Web Service DevCon was one of the best conference I have ever attended, and hosting the conference here on the East Coast would be outstanding.
Dude this was excellent! Count me in for the next year's conference.
This was a very difficult topic to have a focused conference on. I thought the topics were generally very good. Overall good breadth of topics. Thanks for a pleasant experience.
Yeah!
Please do this again soon! Don't wait 3 years! The real value of this conference is the change to hear intelligent people talk about different aspects of the technology. This wasn't a training conference -- it's more of a "pulse of the technology" conferences. That's what makes it so useful. Good training classes are commonplace -- this kind of meeting is priceless. Great job! Thanks!
This has been the most focused, most useful conference I have ever attended. Big thanks for putting on this event.
Excellent job hitting many aspects of the WS world. Great speakers.
Good fricking conference.
I'd attend again!
Great food.
Thanks for putting so much work into the conference - it was very educational for me!
Great job on catering vegetarian lunches.
I enjoyed the conference tremendously. Very nice topics.
Awesome conference. Best money my employer every spent. : ) Definitely want to come to the next one.
Great conference. Please have it annually.
Thanks Chris + Tim!
I mainly came here to learn what technologies I'm going to need to learn in the next couple of years, not really to learn the technologies themselves. In that regard the DevCon was a huge success as far as I am concerned.
Great conference. Surprisingly relevant and interesting, giving the depth and breadth of "web services." Definitely would be interested in a future conference.
Really appreciate the timeliness of all of the sessions.
Awesome. Can't wait for the next one.
Excellent conference. Well worth the bucks. Looking forward to another conference soon.
The overall quality of the conference and speakers was excellent. I wouldn't hesitate to come for any future devcon put on by Sells Brothers.
Perfect.
Awesome collection of talent!
Having attended both the ATL DevCon and this one, I have the utmost respect for y'alls' ability to cut to the important info. As always, the talk spread is very nice in that not all speakers are professional speakers/trainers. I can't wait for the next one. : )
Schedule -- great. Speakers -- star-studded array. Would I attend again? -- yes, especially with these speakers.
Bob is excellent!
About Keynote, Don Box:
Don had his visionary goggles on as usual.
Caused me to rethink a lot of things.
Don is Don. What more can you say?
About .NET Web Service interop in the real world, Tim Ewald
Tim is a master at this subject. He knows more about this area than just about anyone.
Wish I'd heard this a month ago!
Tim did a great job high-lighting the current problems in web services dev toolsets.
[Tim Ewald is a ] smart dude. A real machine.
About Comparing the Two .NET SOAP Stacks, Brent Rector
Brent is the man!
Excellent. Very good. Outstanding speaker. I loved it.
Love the wise owl -- hoot hoot.
About "When Web Services Go Bad," Steve Loughran
Like this topic Real world web services! Baby!
Great talk!
Outstanding.
About "Network infrastructure requirements for web services," Eugene Kuznetsov
Wow!
Eugene is an engaging/entertaining speaker.
This talk is a nice dose of reality injected into our fantasy development utopia.
This is great stuff. Very eye opening.
About "Unusual applications of web services", Patrick Logan
This was mind-shifting powerful stuff. I didn't expect that any speaker would change the way I think about WS, but Patrick did.
The sleeper hit.
About "SOAP over alternate protocols," Peter Drayton
This talk really rocked!
Where do you find these experts? I think it's clear that Peter has no life, but to master all of these technologies. His "hobbies" make for a great session.
This permanently changed the way I will think about not only WS, but about cracking design problems in the future.
This talk was useful because of the .NET remoting information, but it was also very cool!
About "Implementing GXA specifications on .NET," Keith Ballinger
A peek into the future. Hopefully I won't have to worry about this stuff, but I'm glad that madmen like Keith are working on it.
Exactly what I needed to hear!
Keith rocks!
About "Using XSLT to implement web services," Craig Andera
Great talk. I finally appreciate XML out of SQL Server. Great demos!
Craig is a mater of this stuff and very "jacked" about the benefits. This was an "incubator" session in that it got me thinking about applications.
Site
This site, and all its contents, are copyright © 2001-2002, Chris Sells and Tim Ewald. All rights reserved. Please contact csells@sellsbrothers.com with any comments or suggestions.